Traveling to Japan in June is a popular question, as many people want to experience the beauty of the country and its culture during this time of year. Japan has always been a place that draws travelers from all over the world for its unique and vibrant culture, stunning scenery, top-notch cuisine and centuries-old traditions. In addition to its fascinating history, Japan is also renowned for its advanced technology and innovation – making it an attractive destination for tech enthusiasts.

With all these factors combined, it's no wonder why so many people are eager to explore what Japan has to offer in June! The good news is that it's possible (and relatively easy) to travel to Japan in June. As long as you have your passport ready along with any necessary visas or documents required by Japanese immigration authorities, you should be able to get into the country without too much trouble.

However, there are some things you should know before planning your trip – including potential challenges associated with weather conditions at this time of year as well as important tips on how best prepare yourself for your journey ahead.
Book Your Flight: Book your flight to Japan at least one month in advance, if possible, to ensure you get the best deals on airfare
Make sure to check all available airlines and look for any discounts they may offer
Choose Accommodations: Consider what type of accommodation you wish to stay in while in Japan – either a hotel or homestay with a local family
Research these options thoroughly and book them well ahead of time as it can be difficult to find last-minute lodging during peak travel season (June is considered peak travel season)
Get a Tourist Visa: If you're not from an eligible country that doesn't require visa applications for stays less than 90 days, then obtain a tourist visa before traveling by applying online or visiting your nearest Japanese embassy/consulate office
Make sure that the documents required for application are prepared beforehand so as not to delay your trip due to paperwork issues later on! 4
Prepare Necessary Documents: Gather all necessary documents such as passport, proof of residence (if applicable), international driver's license (if planning on driving) and other relevant information needed for entry into Japan prior to departure date
5
Research Attractions & Events: Before departing, research attractions such as shrines and temples or events like festivals happening around June in order determine which places/events should be visited first upon arrival!
How to Travel to Japan (June 2022)
Is It Ok to Travel to Japan in June?
Traveling to Japan in June is a great option for those looking to experience the beauty and culture of this vibrant country. With mild temperatures, lush landscapes, and plenty of activities to do, there's something for everyone in Japan during the summer months. June marks the start of summer in Japan and brings with it a variety of festivals throughout the country.

From traditional Japanese celebrations like Tanabata Festival—which celebrates star-crossed lovers—to modern events such as Minato Matsuri (the Tokyo Port Festival), you can find plenty of things to do during your stay. June also offers some beautiful scenery with its blooming fields, lush gardens, and colorful parks that come alive during this time of year. In terms of weather conditions, average temperatures tend to range from 18°C – 25°C (64°F – 77°F) across most parts of Japan throughout June but can reach up into the 30's °C (86+ °F).

Although wetter than other seasons due to rain showers or thunderstorms being common at times, it generally remains pleasant enough outside so that outdoor adventures can still be enjoyed by travelers. If you plan on visiting any beaches or swimming spots while in Japan however then keep an eye out for jellyfish warnings which are more prevalent at these times!
Will Japan Open for Tourism in June?
The future of tourism in Japan has been a hot topic of conversation recently, as the country begins to slowly ease its coronavirus restrictions. With June just around the corner, many people are wondering if Japan will open for tourism in that month. The answer is not clear-cut; while some regions of Japan may begin allowing tourists soon, it appears unlikely that nationwide travel will be possible by June.

At this point in time, most foreign travelers are still banned from entering the country due to COVID-19 restrictions. However, there have been reports that suggest certain areas—such as Okinawa and Hokkaido—may re-open their borders to international visitors sooner than other parts of Japan. These regions are reportedly considering more relaxed border rules for vaccinated travelers from certain countries beginning in late May or early June.

It's unclear exactly which countries would be included on this list and what specific requirements would need to be met before being allowed entry into these areas; however it does seem like a step forward toward welcoming overseas guests back into Japan once again. Even if some locations do begin allowing travelers ahead of schedule, it's likely that tourist visits won't resume everywhere until later this year at best—and even then with strict safety protocols in place such as mandatory PCR tests upon arrival and throughout your stay in the country.
Will Japan Open Soon for Tourists?
The short answer to the question of whether Japan will open soon for tourists is "not anytime soon." The Japanese government has implemented strict travel restrictions and border closures in order to contain the spread of COVID-19, and those measures are likely to remain in place until a vaccine or effective treatment can be developed. At the moment, only foreign nationals living in Japan who have already obtained residency status before March 1st 2020 are allowed entry into Japan.

In addition, travelers from some countries may be granted special exemptions from these restrictions if they meet certain criteria (such as having family members living in Japan). The Japanese government is also taking steps to ensure that visitors entering the country do not spread Covid-19 within its borders. For example, all travelers must submit detailed health information prior to their arrival, including proof of a negative PCR test taken within 72 hours before departure.

Additionally, visitors must follow social distancing protocols throughout their stay and wear face masks at all times while indoors. Furthermore, any traveler arriving into Japan must quarantine for 14 days upon arrival – this includes both staying at home or at designated facilities – and refrain from using public transportation during that time period. This measure was put in place due to concerns over imported cases of Covid-19 coming from abroad after other countries began easing their travel restrictions earlier this year.
Will Japan Open for Tourists in 2022?
The question of whether Japan will open for tourists in 2022 remains uncertain. The country has faced a number of challenges due to the ongoing coronavirus pandemic, including a sharp decline in tourism arrivals and significant economic disruption. As such, it is difficult to predict when international travel to Japan may resume with any degree of certainty.

That said, there are some indications that suggest that Japan could potentially open its borders for foreign visitors sometime next year. In late 2020, the Japanese government announced plans to ease restrictions on entry into the country by allowing travelers from certain areas with low levels of coronavirus transmission (such as Australia and New Zealand) to enter without requiring them to quarantine upon arrival. Additionally, Prime Minister Yoshihide Suga has expressed his intention for Japan's economy "to return vigorously" after the 2021 Summer Olympics are held in Tokyo.

This suggests that he may be looking ahead towards an eventual recovery from COVID-19 and thus paving the way for an increased flow of visitors into Japan later in 2022 or beyond. It is also important to note that even if Japan does decide to reopen its borders at some point next year, travelers should expect additional safety measures put in place before they can visit the country – including temperature checks at airports and other points of entry as well as mandatory PCR testing prior departure home again once their trip is over.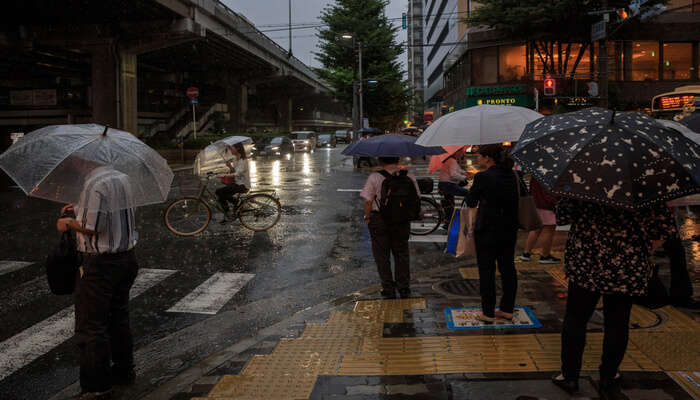 Credit: traveltriangle.com
When Will Japan Open Borders Again
As the world continues to battle against COVID-19, many countries have been forced to close their borders in an effort to slow the spread of this virus. Japan is no exception, having closed its borders back in March 2020 and implementing stringent travel restrictions for those entering from overseas. While these measures were necessary at the time, it has left travelers wondering when will Japan open its borders again?

At present, there are still a number of restrictions on international travel into Japan. All foreign nationals who intend to enter Japan must first obtain prior approval from Japanese authorities before they can be allowed entry. This includes visitors with valid visas as well as permanent residence holders.

Furthermore, all individuals entering or leaving the country are required to undergo a 14-day quarantine upon arrival and submit proof of negative COVID-19 test results within 72 hours before departure. Japan has also implemented other safety measures such as requiring passengers arriving from certain countries (e.g., China) to complete a health declaration form online via mobile phone or tablet computer prior to boarding their flight bound for Japan's airports and ports of entry.
Japan Travel Restrictions 2022
Japan is one of the most beloved destinations for tourists all around the world. The country has a unique blend of modern and traditional culture, stunning landscapes, vibrant cities, delicious cuisine and plenty of attractions that make it an ideal spot for travelers. However, due to the ongoing pandemic situation in many parts of the world, Japan has had to put in place some travel restrictions in order to protect its citizens from potential infection.

These restrictions are set to continue into 2022 with potentially even more stringent rules being imposed as time goes on. Currently visitors who wish to enter Japan must have a valid visa or residence permit for their intended stay duration and must also undergo PCR testing upon arriving at any port-of-entry within 72 hours prior to arrival. They would then be required to quarantine themselves at home or other suitable accommodation until further notice depending on their results.

For those wishing visit Japan without having tested negative prior they may still be allowed entry however they will need obtain permission from either Japanese embassies abroad or directly from Japanese immigration upon arrival and produce proof that they've completed 14 days of self-quarantine before departure (or provide proof that they've received two doses of vaccine against COVID-19). Visitors who don't meet these requirements will not be granted entry into Japan under any circumstances regardless if you hold a valid visa/residence permit or not.
When Will Japan Open Borders for Tourism 2022
2020 has been a difficult year for the travel industry, with countries around the world shutting their borders and suspending international flights in an attempt to slow the spread of COVID-19. Japan is no exception – its government closed its borders to foreigners back in April 2020 and has since implemented strict entry requirements for visitors. However, there is some light at the end of the tunnel: The Japanese government recently announced that it will begin easing restrictions on foreign travelers starting in 2022.

This means that while some travelers may still be unable to enter due to visa requirements or other restrictions, others can look forward to being able to visit Japan once again next year. The government's plan is for tourism to resume gradually over several stages beginning from January 2021. Initially this will involve allowing business travellers from certain countries into Japan, followed by individual tourists from these same countries later in 2021.

In 2022, it is expected that more tourists from additional countries will be allowed entry as well as those who are travelling for leisure purposes rather than business reasons only. These plans also include methods aimed at keeping people safe during their stay such as temperature checks upon arrival and mandatory health insurance coverage for all visitors staying longer than 90 days (which must be purchased before entering). Visitors should also expect stricter quarantine rules depending on which country they arrive from; those coming from high-risk areas may have a longer period of self-isolation required after landing compared to those arriving from low risk areas.
Conclusion
Yes, you can travel to Japan in June! Before you go, though, be sure to check the Japanese government's entry requirements. Currently, foreign nationals are allowed to enter Japan if they have a valid residence status and a re-entry permit issued by the Japanese government.

Additionally, travelers must fill out an online health form and submit it when they arrive at the airport. Furthermore, travelers may need to quarantine for 14 days after arriving in Japan depending on their country of origin. To make your trip easier and more enjoyable, consider getting a prepaid SIM card before your arrival so that you have access to data while traveling in Japan or use pocket wifi rental service from local providers like Ninja Wifi or Changi Recommends .

Lastly, keep an eye on the weather forecast as summer is usually hot and humid with occasional typhoons during June!