Shibuya is a popular Tokyo district, renowned for its vibrant nightlife and eclectic shopping. It's also home to some of Japan's most iconic sights, such as the towering Hachiko statue and the bustling Shibuya Crossing. With so much to do in this lively area of Tokyo, it can be tough to decide what activities to prioritize during your visit.

To help you plan your trip, here are some top tips on what to do in Shibuya: From shopping at the famous 109 building or exploring one of Tokyo's most popular parks, Yoyogi Park – there are plenty of ways to experience the best that Shibuya has to offer. For those looking for more active pursuits, why not try out street-dancing at Scramble crossing or head over for a game at one of Japan's largest arcades – Sega Joypolis?

And if you're feeling adventurous enough, take part in cosplay meet ups or indulge yourself with karaoke! No matter what kind of activity you're after – whether it's cultural exploration or simply taking time out from sightseeing – there is something special waiting around every corner in this vibrant city district.
If you're looking for a bustling city in Japan to explore and have an unforgettable time, look no further – Shibuya is the perfect place. Known as one of Tokyo's most vibrant and exciting districts, there's plenty to do in this lively neighbourhood that will make your trip memorable. From delicious restaurants and bars, to unique shopping experiences and tourist attractions, here are some of the best things to do when you visit Shibuya!

Visit The Famous Scramble Crossing: One of the most iconic places in all of Tokyo is the infamous Scramble Crossing located right outside the station exit. It's an amazing sight to see hundreds of people crossing at once from every direction without bumping into each other! You can take some great photos with this landmark too.

Enjoy Shopping In The District: Whether you want trendy fashion items or souvenirs from Japan, Shibuya has it all! There are several malls such as Hikarie or Seibu Department Store where you can find whatever you need – plus they offer tax-free shopping for foreign visitors so be sure to keep that in mind when buying gifts for friends back home. On top of that, don't forget about exploring smaller shops like those on Cat Street which have unique items not found anywhere else!
Shibuya HAS CHANGED : 10 Things You MUST Do When Japan Opens! Japan Travel 2022
Things to Do in Shinjuku
When visitors think of Tokyo, they often think of the Shinjuku area. With its endless entertainment options and lively nightlife, it's no wonder why this part of Japan is so popular. Whether you're looking for a unique experience or an unforgettable night out with friends, there are plenty of things to do in Shinjuku that will make your stay memorable.

One of the most iconic attractions in Shinjuku is the world-famous Kabukicho district. This red-light district offers everything from nightclubs and bars to karaoke joints and hostess clubs – perfect for those who want to let loose after a long day exploring the city. If you'd rather take it easy, head over to Omoide Yokocho (Memory Lane) where you can sample mouth-watering street food while admiring traditional Japanese architecture.

For something more family friendly, visit one of Tokyo's largest parks – Shinjuku Gyoen National Garden. Here, you can wander through lush gardens filled with flowers before stopping off at one of its many restaurants serving up delicious traditional dishes like ramen and tempura. For those interested in art and culture, be sure not to miss The National Art Center which showcases some incredible exhibitions from around the globe throughout the year or check out Hanazono Shrine which dates back hundreds years ago– definitely worth visiting!
What to Do in Shibuya at Night
When the sun sets in Tokyo, Shibuya truly comes to life. A bustling city center known for its energy and youth culture, Shibuya is a great place to explore after dark. Here's what you need to know about experiencing nightlife in this vibrant area.

First off, it's important to note that there are two different sides of Shibuya at night: the east side and the west side. The east side has more traditional Japanese restaurants and bars where you can find tasty local dishes like ramen and sushi as well as craft beer or sake. On the other hand, if you're looking for something more animated then head over to the west side which is home to some of Japan's best clubs and entertainment venues with DJs spinning all sorts of music from EDM, house music, hip hop and R&B.

If dancing isn't your thing but still want an exciting evening out on the town, there are plenty of activities available such as karaoke bars, live shows at theaters or cinemas showing Hollywood blockbusters or cult classics from around the world , escape rooms for those who love puzzles , arcades filled with claw machines games & classic video games , billiards halls & darts centers .
Shibuya Crossing
If you're looking for an iconic image of Tokyo, look no further than Shibuya Crossing. Located in the heart of the city, it's one of the busiest intersections in all of Japan. This pedestrian scramble is a sight to behold, with hundreds of people crossing from all directions at once!

Here's what makes this crossing so special and why it's a must-visit spot when you're exploring Tokyo. Shibuya Crossing is located just outside Shibuya Station, which serves as an interchange between several different modes of public transportation. It's also surrounded by some famous landmarks like the Hachiko Statue and 109 Department Store.

The intersection itself consists of five large roads that converge on one point – making it incredibly busy during peak hours! It has become such an icon that its popularity even inspired a movie called "Lost In Translation", where Bill Murray was filmed standing in the middle of the intersection contemplating life while watching everyone pass by him. It truly is quite a unique experience to be part of this hustle and bustle – especially if you choose to stand right in the middle like Bill did!

The best time to see Shibuya Crossing at its most vibrant is during rush hour when thousands upon thousands stream through from every direction imaginable. At times, there can be up to 3,000 people traversing each light cycle; that's equivalent to about 500 people per street!
Things to Do in Shibuya 2022
If you're looking for a place to visit in 2022, Shibuya should definitely be at the top of your list. Located in Tokyo, Japan, this vibrant city is known as one of the major fashion and entertainment hubs of Japan. With its futuristic architecture, stylish shopping centers and endless nightlife options, there's always something to do in Shibuya.

Here are some things you can look forward to when visiting Shibuya next year: 1. Shopping – Whether it's clothes or electronics that you're after, Shibuya has plenty of both! From iconic department stores like Seibu and Tokyu Hands to smaller boutiques like Laforet Harajuku and Parco Department Store—there's sure to be something that catches your eye!

Plus if you're feeling brave enough, take a trip down Takeshita Street which offers even more unique items from local designers. 2. Nightlife – For those who love partying late into the night (or early morning), then head over to Dogenzaka where many clubs such as Womb offer all-night events with international DJs playing some great tunes until dawn breaks! If clubbing isn't really your thing then why not try karaoke instead?

It may not seem typical but Japanese karaoke bars are quite popular so make sure you give it a go while in town! 3 .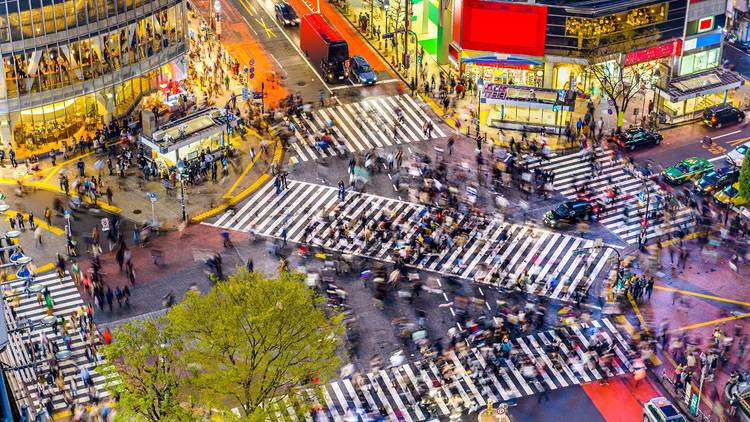 Credit: www.timeout.com
What is Shibuya Popular For?
Shibuya, a district located in Tokyo, Japan is known for its bustling nightlife and culture. It's also home to some of the most famous shopping districts in the world. From fashion boutiques to electronics stores, Shibuya has something for everyone.

But what makes it so popular? Let's take a look at all that Shibuya has to offer! One of the things that make Shibuya popular is its vibrant nightlife scene.

The area is filled with bars, cafes, restaurants and nightclubs where you can find both locals and tourists alike having a great time enjoying drinks or dancing away into the wee hours of morning. There are countless places to explore; from exclusive cocktail bars catering to high-end clientele or karaoke bars perfect for singing your heart out with friends – there's something for everyone here! In terms of shopping options, people flock from all over Japan (and even around the world) just to shop at one of Shibuya's many department stores.

Whether you're looking for designer labels such as Yves Saint Laurent or Prada or more affordable items like fast fashion brand Uniqlo – this place has it all! Not only does it have an amazing selection but shoppers can also enjoy special promotions every now and then too making it even more attractive than other areas in Tokyo city center .
Is Shibuya Worth Visiting?
If you're visiting Japan for the first time, Shibuya should be at the top of your list of places to visit. As one of the most iconic and vibrant districts in Tokyo, it offers a unique cultural experience that is truly worth your time. Shibuya is well-known around the world as a major shopping district with plenty of boutiques and stores selling everything from designer clothing to electronics.

The area also boasts some excellent restaurants and cafes, where visitors can sample delicious traditional Japanese food as well as other international cuisines. But what really makes Shibuya stand out is its immense energy and atmosphere – it's hard not to get caught up in all the hustle and bustle! One of Shibuya's biggest attractions is arguably its famous "Scramble Crossing"—a bustling intersection located right outside one of the busiest train stations (Shibuya Station) in Japan.

Here you can witness firsthand how chaotic yet orderly Tokyo life can be; thousands upon thousands of people cross this junction every day without any trouble or mishaps! It's an amazing sight to behold!
Is Shibuya Or Shinjuku Better?
If you're looking to explore Tokyo, two of the most popular neighborhoods are Shibuya and Shinjuku. Both districts have their own unique charm, but which one should you choose? To help you decide, we've compared both areas in terms of atmosphere, transportation options, attractions and nightlife.

Atmosphere: Shibuya is a vibrant area full of energy with neon lights illuminating its streets at night. It's known for its shopping malls as well as fashion-conscious young people who gather here to hang out or go clubbing.

Shinjuku has a more laid back atmosphere than Shibuya; there are plenty of restaurants and bars that cater to all tastes and budgets. The area also has parks where visitors can relax away from the hustle and bustle of city life. Transportation Options:

Both areas have excellent public transport connections with multiple train lines serving them throughout the day. However, Shinjuku Station is considered one of the world's busiest railway stations due to its sheer size so it may be easier for visitors to navigate around if they opt for Shibuya instead. Attractions:

Shibuya is best known for being home to Hachiko Square – an iconic meeting point in front of Shibuya Station – as well as numerous department stores such as Tokyu Hands and Seeso Plaza Shopping Mall.
Is Shibuya Crossing Free?
Shibuya Crossing—the world's busiest intersection located in Tokyo, Japan—is a must-see destination for tourists from around the world. Many wonder if they can cross this iconic landmark without paying an entrance fee. The answer is yes!

Shibuya Crossing is completely free to visit and experience. The area surrounding Shibuya Crossing has become one of Tokyo's most popular tourist attractions due to its vibrant energy and unique architecture. Visitors are able to explore the famous shopping district of Shibuya, where you'll find endless restaurants, stores, bars and clubs.

There's also plenty of entertainment venues nearby such as movie theaters, karaoke spots and game centers. Crossing through the intersection itself doesn't cost anything; however there may be some fees associated with other activities in the vicinity that visitors should take note of when planning their trip. For example, many people who come to Shibuya want to get a good view of it from above so they opt for taking a ride up Tokyo Tower or visiting one of the observation decks nearby like Roppongi Hills Sky Deck or Odaiba Seaside Park Viewpoint (both have entrance fees).

Overall though there's no charge involved with simply crossing over at the legendary junction point known as "The Scramble" which makes it accessible for everyone whether they're local or traveling abroad on holiday.
Conclusion
Shibuya is one of the most iconic places in Tokyo and a great place to explore for visitors. There's so much to do, from shopping and dining at trendy stores and restaurants, to sightseeing famous locations such as Hachiko Statue, the scramble crossing, Shibuya 109 building, Meiji Shrine or Yoyogi Park. Besides all these tourist attractions there are plenty of events that take place throughout the year like Harajuku Omotesando Genki Matsuri which is an annual festival featuring parades with colorful costumes and performances by local artists.

You can also find interesting places like Cat Café MoCHA or Robot Restaurant where you have a unique experience combining entertainment with delicious food! Finally don't forget to visit some of Tokyo's top museums such as The National Art Center or Mori Arts Center Gallery if you're looking for more cultural activities. If you're planning on visiting Shibuya then make sure it's included in your list of must-see destinations while in Japan!